Jeremy Hunt to review Friarage Hospital downgrade plan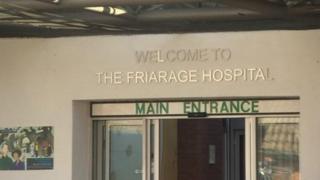 Health Secretary Jeremy Hunt is to review plans to downgrade maternity services at a North Yorkshire hospital for a second time.
Services at the Friarage Hospital, in Northallerton, are currently run by consultants but are set to become midwife-led from October.
Mr Hunt has said he has asked the NHS Independent Reconfiguration Panel for an initial assessment by 15 May.
He has previously rejected calls for a in-depth revision of the plans.
The Hambleton, Richmondshire and Whitby Clinical Commissioning Group (CCG) has said the change, first announced in 2011, is in the best interests of patients.
'Some urgency'
It would mean pregnant women or children with complicated medical conditions would have to use the James Cook University Hospital, located 22 miles (35km) away in Middlesbrough.
More than 10,000 people signed a petition against the proposals with the support of the local Conservative MP William Hague.
Councillor Jim Clark, chair of the county council's scrutiny of health committee, had requested a second review of the proposals.
He said: "The fact that he has done so as a result of our representations is extremely gratifying.
"The fact that he has asked the panel to carry out the initial assessment within little more than a month is an indication that he believes this to be a matter of some urgency."
Dr Vicky Pleydell, clinical chief officer of the CCG, said she understood the committee's concerns.
She added the CCG was pleased Jeremy Hunt had accepted the need to undertake the review quickly and was looking forward to hearing the outcome.
The 225-bed hospital serves 122,000 people in a mainly rural area.