Lendal Bridge in York: Driver fines 'must be returned'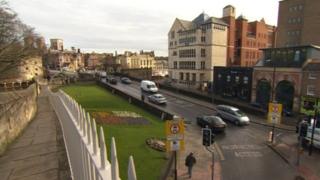 Fines issued for breaching restrictions on a York road bridge should be returned, it has been claimed.
Road traffic lawyer, Nick Freeman, made the comment after the City of York Council confirmed restrictions on Lendal Bridge would be lifted.
A traffic adjudicator ruled the council had no power to issue penalties after stating the road could not be considered a bus lane.
The Labour-run council maintains the 57,000 fines it issued were legal.
General traffic was banned from Lendal Bridge between 10:30 and 17:00, on a trial basis, from last August.
Traffic adjudicator Stephen Knapp concluded in March the bridge did not qualify as a bus lane and signage alerting drivers to the restrictions were inadequate.
'Within the law'
Mr Freeman, who is also known as Mr Loophole, told BBC Radio York: "If they [the council] are going to embark upon these schemes they need to take proper advice and have signage in place to ensure the public are not taken advantage of.
"Quite clearly in this case motorists are being used as a cash cow."
He said the council had an obligation to return fines issued to motorist.
"They are holding on to money that is not lawfully theirs," he added.
"It is like going to a restaurant and being given £10 too much change and you do not realise until you get home. If you keep that money it is theft."
Darren Richardson, director of city and environmental services at the council, said the restrictions on Lendal Bridge would be lifted from 12 April.
"We remain confident that any PCN's issued are valid and this follows independent legal advice confirming the trial was operating within the law," he said.
Mr Richardson added the purpose of the trial had not been to generate revenue, but to reduce congestion in the city centre.