York councillor to resign if Lendal Bridge ban proven unlawful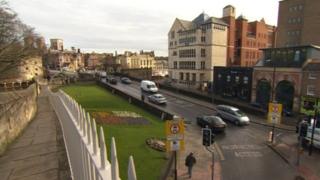 A senior councillor responsible for traffic issues in York has said he will resign if fines given to motorists using Lendal Bridge are proved to have been unlawful.
Labour's Dave Merrett said he thought the council, which has issued fines worth £1.3m, was operating legally.
Earlier this week a traffic adjudicator said the roads did not qualify as bus lanes and signage was inadequate.
The council said it had taken legal advice and the ban would continue.
Mr Merrett told BBC Radio York: "Yes, I accept that at the end of the day that if we've got it wrong to that extent that I'd have to resign."
Inadequate signage
City of York Council has banned general traffic from using Coppergate or Lendal Bridge at certain times of the day.
More than 57,000 drivers have been issued penalty notices since the restrictions were put in place in August.
Motorist Nigel Rhodes appealed against his £60 fine for "being in a bus lane" on 21 August last year.
Ruling in his favour at a tribunal, adjudicator Stephen Knapp said "the restriction was not on any reasonable view a bus street" and concluded that the authority had "no power" to issue penalties.
Councillors are due to consider the restrictions at a meeting on 6 May.