Signaller Tyler Pearson named as missing York river man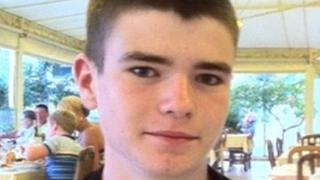 A man who is missing having tried to swim across the River Ouse in York has been identified as a serving soldier.
Signaller Tyler Pearson, 18, of York-based 2 Signal Regt, has not been seen since going into the river in the early hours of Thursday.
Police officers are searching in and around the Ouse for the soldier.
Lt Col Ian Hargreaves, from 2 Signal Regt, said Signaller Pearson's colleagues' "thoughts and prayers" were with his family.
Police were called at about 02:30 BST on Thursday after a man was seen in the river near Ouse Bridge.
Signaller Pearson was seen entering the water at King's Staith near the Lowther public house, North Yorkshire Police said.
'Bright, keen and enthusiastic'
Officers believe the soldier was trying to reach the far bank of the river at Queen's Staith.
Supt Phil Cain said Signaller Pearson was thought to have entered the river voluntarily during a night out with a group of friends.
Lt Col Hargreaves, Signaller Pearson's commanding officer, said the soldier had only recently arrived at 2 Signal Regt in York and was "bright, keen and enthusiastic".
He is a "fit and keen" footballer who is lined up to join the regimental team, added Lt Col Hargreaves.
"As a regiment, we very much hope that Tyler is found soon."
Signaller Pearson's family is being supported by specially-trained officers from North Yorkshire Police and the Army.
River safety summit
The soldier's disappearance comes a week after a river safety summit was held in York, called by North Yorkshire Police and Crime Commissioner Julia Mulligan.
The summit was organised following the deaths of two young people who went missing after separate nights out in York and who were later found in city centre rivers.
Ben Clarkson, 22, was found in the River Foss on 21 March, three weeks after he was last seen outside a York nightclub.
Mr Clarkson disappeared on the same day the body of 20-year-old Megan Roberts was found in the River Ouse after extensive underwater searches.
Miss Roberts, a York St John University student, went missing in January after a night out drinking with friends in the city.