North Yorkshire Police officer PC Tony Morton saves baby's life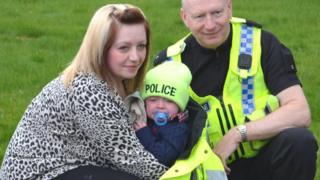 A mother has praised a quick-thinking policeman for saving the life of her baby son she thought had died just a day after his first birthday.
PC Tony Morton was on patrol in Selby when he saw Ruth Travis run out of a house on Reginald Terrace carrying her apparently lifeless son Harry.
The North Yorkshire Police officer gave him the kiss of life last Saturday afternoon before paramedics arrived.
Harry was taken to hospital and has now fully recovered from his ordeal.
Doctors found that he had suffered a fit triggered by a fever and paramedics told PC Morton his actions had saved the child's life.
'I was amazed'
PC Morton recalled: "When I saw baby Harry my heart sank, he was floppy, grey, his lips had turned blue and his eyes had rolled into the back of his head.
"I checked for a pulse but there was none.
"I loosened Harry's clothing and began to lightly massage his chest while at the same time blew small breaths into his mouth.
"After a few breaths his eyes started to move and he miraculously began breathing on his own.
"I was amazed at how quickly he came round and within a few minutes he was wearing my yellow woolly hat and was wrapped in my police jacket."
Paramedics arrived shortly afterwards and Harry was taken to York District Hospital for treatment
Harry's mother said: "I thought he was dead. Although I am first aid trained, I was in shock and my first thought was to get help.
"I flagged Tony down and he rubbed Harry's chest, it felt like forever but he started breathing again and it was such a relief.
"I am very grateful to Tony and I feel lucky that he was there at the right time."