York safety meeting follows River Ouse death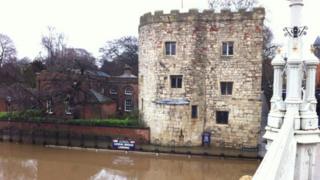 A river safety meeting has been arranged in York, following the death of Megan Roberts whose body was found in the city's River Ouse.
Miss Roberts, 20, disappeared after a night out drinking with friends in January. Her body was found on 2 March following underwater river searches.
Police divers also recently searched York's River Foss for Ben Clarkson, who has been missing since 2 March.
North Yorkshire's Police and Crime Commissioner has organised the meeting.
Julia Mulligan, who has set it up for 25 March, said alcohol tended to be a theme in "contributing to risk".
"A great deal of excellent work is ongoing, from the city council to voluntary groups, but there are always opportunities to achieve more by working together", she said.
'No quick fixes'
Mr Clarkson, 22, was last seen outside a city centre nightclub in the early hours of 2 March.
City of York Council has also commissioned an inspection by The Royal Society for the Prevention of Accidents to see if it can introduce any safety measures.
Councillor Linsay Cunningham-Cross said: "There are no quick fixes to the scenarios, accidents do tragically happen."
Representatives from the council, the city's universities and students' unions, police, voluntary groups and others will be at the meeting at York St John university.
Ms Roberts and Mr Clarkson both attended the university.