Great Yorkshire Showground to get £10m upgrade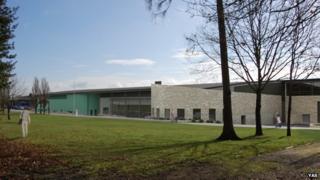 The Great Yorkshire Showground near Harrogate is to get a £10m investment in new facilities
Owned by the Yorkshire Agricultural Society (YAS), the site hosts the annual Great Yorkshire Show as well as other exhibitions and events.
The money will be used to replace the existing main exhibition hall with a larger one.
The YAS claims that events held at the showground bring in £47m each year to the local economy
Heather Parry, YAS deputy chief executive, said: "Hall 1 was originally constructed in the 1960s and expected to last for 20 years so it has been a good Yorkshire investment.
"Unfortunately it is now deteriorating so we need to replace it. "
The society is a charity which uses profits from hosting events at the showground to fund the promotion of the local agriculture industry.
The new hall will be built with money from the society and a bank loan.
If its planning application is approved, the building is expected to be open by summer 2016.