Scarborough coastal defence plan 'unaffordable'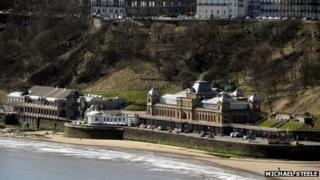 Plans for a £24m sea defence and cliff stabilisation scheme are 'unaffordable' without additional financial backing, a North Yorkshire council has said.
Scarborough Borough Council wants to install seafront rock armour and to shore up cliffs around the Spa complex.
But, a council report said the scheme, due to receive a £11.4m grant from the Environment Agency, was unaffordable as it could not meet the £12.7m shortfall.
Cabinet members voted on Tuesday to seek further financial help.
The report states that without action the cliff behind the Spa complex, in South Bay, could collapse, resulting in the loss of the Grade-II-listed building and putting about 380 cliff top residences at risk.
'Serious financial difficulties'
It says: "...in the absence of any funding contributions from third parties, the unsupported borrowing requirement of £12.7m is unaffordable for the council."
It adds that borrowing the money from the Coast Protection scheme would "lead to serious financial difficulties and hardship".
Instead, it suggests approaching the Environment Agency or North Yorkshire County Council - as designated Risk Management Authorities - for financial support for the scheme.
The report also highlights the dangers to the public from waves crashing on to the road outside the Spa.
Councillors agreed a risk management plan should be drawn up for consideration in July.
A North Yorkshire County Council spokesman said it was unable to comment until it had received a formal approach from Scarborough Borough Council.