Sheep thefts top £120,000 in Craven area of North Yorkshire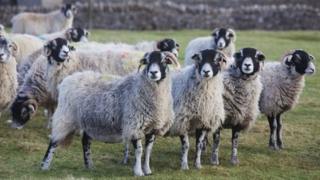 The theft of livestock in North Yorkshire has reached serious levels, with up to 1,000 animals being stolen since last spring, the National Farmers' Union has said.
Police said sheep thefts had reached significant financial levels with more than £120,000 worth of animals stolen.
Farms close to Clapham railway station in the Craven area of the county have been targeted repeatedly.
Sgt Mark Hill said the community needed to be "our eyes and ears".
Police say they do not know where the sheep are going, but suspect they are part of the illegal meat trade.
Bloodstock stolen
Farmer Colin Price said the thefts were having a knock-on effect on his business.
He said: "It's a long-term thing because we're breeding stock not just fat lambs.
"We're breeding stock that we sell on to other farmers, so it hits your breeding programme."
Mr Price said the thefts had made him consider giving up sheep farming and turn to cattle instead.
Sgt Hill said: "The cost from May 2013 to a couple of weeks ago is about £122,000
"The only way forward is for the community to be our eyes and ears.
"Not just the farming community, everybody in the community.
"The farmers, if they see something they're not happy about - they need to tell us.
"If they see a vehicle they need to write down the registration number and let us know straight away".
The National Farmers' Union in North Yorkshire said: "With the difficulties of the snow last year it will take quite a bit of time to recover, but added to that the thefts are having a cumulative effect on farmers."