Ripon house damaged by sinkhole is demolished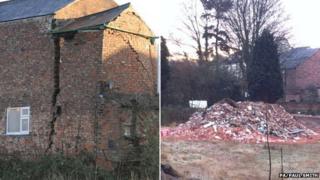 A house in Ripon which was damaged when a 25ft-wide (7.5m) sinkhole opened has been demolished.
Residents of the rented property in Magdalen's Close had to be evacuated along with people in two other homes when the hole appeared on 17 February.
The 100-year-old detached house was demolished on Tuesday after assessments by building specialists at Harrogate Borough Council.
Residents of the other homes were able to return last week.
Paul Smith, who lives nearby, said: "We've always known that there is subsidence in the area but we never had a hole appear like it did. Everyone was quite shocked."
The British Geological Survey has said Ripon lies in one of the most susceptible areas of the UK for sinkholes, because of its "Permian gypsum deposits" which can dissolve more quickly than the surrounding limestone.