York Lendal Bridge vehicle ban earns council more than £600,000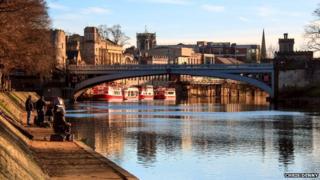 More than £600,000 has been raised from drivers breaking a travel ban over a York bridge, a council has revealed.
This equates to over 45,000 fines since August when a ban was introduced on cars, motorbikes and lorries on Lendal Bridge between 10:30 and 17:00.
York City Council said it would spend the money improving roads and highways.
The six-month trial ends on Wednesday but the ban will remain in place "to maintain consistency while its impact is assessed", the council said.
Drivers are fined £60 for breaking the ban.
Buses, taxis, pedestrians, emergency vehicles and cyclists are still able to use the bridge at all times.
Fines 'surprising'
The Labour council's head of transport Dave Merrett said the council was "surprised" by the number of penalty charge notices issued.
The net revenue from the fines, estimated between £600,000 and £700,000, would be spent on better signalling to improve traffic flow for the benefit of all road users, Mr Merrett said.
"Tackling York's transport issues is fundamental to the success of the city. We are trying to make the right long-term decisions for York so it doesn't choke up," he said.
Leeds University Institute for Transport Studies will now examine the data and the council will make a decision about the future of the bridge by May.
Tourists, businesses and residents have complained about the traffic restrictions but York's main bus operator said the ban had improved passenger numbers and reliability.
"Our services are certainly running better that they were before the closure," said Ben Gilligan of First Buses.
"Roads like Gillygate and Clarence Street are just clear most of the day now."
The council said the figure of 45,000 fines did not take into account the number of drivers who might successfully appeal against a fine.