'Unprecedented' rain sparks A59 Kex Gill landslip work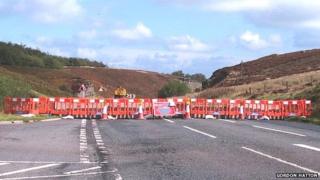 Two years of "unprecedented" rainfall mean a road in North Yorkshire must undergo £200,000 of work to protect it from landslips, a council has said.
Work on the A59 at Kex Gill is due to start later this week, just two years after it was last resurfaced and nearby banks were strengthened.
North Yorkshire County Council said recent heavy rain had revealed the need for extra drainage at the site.
The work is expected to last for about six weeks, the council said.
The stretch of road at Kex Gill, near Blubberhouses, on the A59 between Skipton and Harrogate, runs across very high ground between even higher moorland, a council spokesman said.
It had been affected by landslips in the past due to rainfall, he added.