York City backs anti-homophobia campaign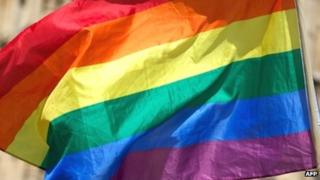 York City has used its home game against Southend United to back a campaign against homophobia in football.
The club gave 100 match tickets to lesbian, gay, bisexual and transgender organisation York Pride to support the Football v Homophobia campaign.
The campaign is inspired by the late Justin Fashanu, who was one of the world's first openly gay footballers.
Players also warmed up in Football v Homophobia t-shirts, the club said.
'Massive problem'
Club director Sophie Hicks said homophobia in football was the sport's "last and most stubborn taboo".
"As a sport, we have to reach a position where players feel comfortable being openly gay and sexuality is not an issue in the game."
Anti-homophobia announcements were made during the match against Southend and the rainbow flag was presented on the pitch before kick-off, the club said.
Greg Stephenson, chairman of York Pride, said while homophobia in football remained a "massive problem", things were slowly changing.
"There have been a few cases in the last few months of players coming out after they have retired, which was unheard of a few years ago, so we are getting there - but it just takes time."