Hungate: Houses for York's former archaeological site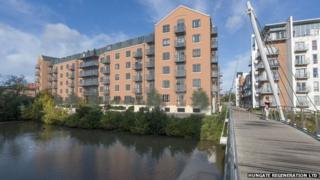 Almost 200 homes are to be built on the former site of the largest archaeological dig in York city centre.
Consent has been given for 195 one, two and three-bedroom apartments in the £150m Hungate project, developers Hungate Regeneration Ltd said.
The York Archaeological Trust spent five years from 2007 to 2012 on the dig on the site by the River Foss.
Construction on the land, which lies within the city's walls, is scheduled to start in the summer of 2014.
The Hungate dig, which covered 26,900 sq ft (2,500 sq m), featured on Channel 4's Time Team programme.
Part of the site contained the remains of an early Roman cemetery, which was about 1,700 years old.
Discoveries included a Roman necklace consisting of 299 small glass beads and rare jet jewellery dating from the 3rd or 4th Centuries.
The dig also revealed the edges of the Viking town of Jorvik where at one time warehouses would have stood.