Ripon sinkhole forces three homes to be evacuated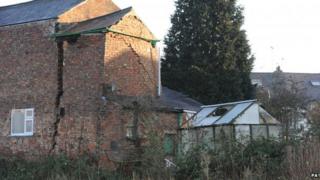 Three homes had to be evacuated after a 25ft-wide (7.5m) sinkhole opened in a street in North Yorkshire.
Fears buildings would collapse forced people to leave their homes in Magdalens Close, Ripon, after the hole opened at about 17:45 GMT on Monday.
No-one was hurt and firefighters rescued a dog from a damaged 100-year-old detached house.
"The affected property and two houses nearby were evacuated," a North Yorkshire Police spokesman said.
It is the latest in a series of similar incidents recently, including a 15ft-wide (4.5m) sinkhole opening in a driveway in High Wycombe on 2 February and a similar sized hole opening in the central reservation of the M2 motorway in Kent, last week.
And on Saturday, a 35ft-wide (10m) hole opened up in Hemel Hempstead, Hertfordshire, forcing the evacuation of 17 homes, before another hole was found in Rickmansworth, also in Hertfordshire, on Sunday night.
In Ripon, fire and ambulance crews have also worked at the scene, alongside utility and structural engineers.
North Yorkshire Fire and Rescue Service said a fire engine and a heavy rescue unit from Ripon went to the scene, where cracks had appeared in the ground, causing damage to the affected house.
A spokeswoman said: "There are no occupiers in the property and a dog has been successfully rescued. Residents from adjacent properties have been evacuated as a precaution."
Local councillor Stuart Martin said he had spoken to the family living in the house and they were "very distressed".
Neighbour Emily Moon said: "It's definitely widened since first thing this morning.
"You can't see the hole from here, just the poor house splitting in two."
Resident Barry Dyason said properties in the area had previously been affected by subsidence, because of gypsum deposits in the local geology.
He added: "But not sinkholes, that I've heard of.
"It's alarming, you see these things reported on television but don't expect it to happen so close to you."
The British Geological Survey confirmed Ripon lies in one of the most susceptible areas of the UK for sinkholes, because of its "Permian gypsum deposits", which can dissolve more quickly than surrounding limestone.
Martin Webber, who lives in a street adjacent to Magdalens Close, said the appearance of the sinkhole was "bizarre".
He said: "I've heard of big holes opening up in the past, but to come home last night to find out that one had appeared literally 100m away from my home, it's concerning for everybody here."