York College nursery death: Judge slams police statement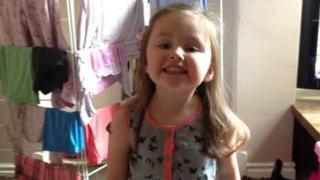 North Yorkshire Police has been strongly criticised by a judge for making "wholly inaccurate" remarks about safety measures at a nursery where a three-year-old girl died.
Mr Justice Coulson's comments came after York College was ordered to pay £220,000 in fines and costs over the death of Lydia Bishop, who died when her neck became caught in a rope on an outdoor slide in 2012.
He said the force released a "wholly inaccurate" statement about safety arrangements at the nursery after the college was convicted last week of failing to ensure children's safety.
In sentencing, the judge said: "The statement that the rope had been in place for about two months is simply wrong (...) the evidence did not support any such conclusion.
"It is an abuse of the criminal justice system for the police to provide their own, incorrect reasons."
'Cheap jibe'
The judge said comments made by Det Ch Insp Nigel Costello that "health and safety is more than just a tick-box exercise" were "crass generalisations."
He said: "It is very easy for those who are not involved in the details of health and safety operations on a daily basis to criticise those who are for having a 'tick-box' mentality.
"It is a cheap and easy jibe.
"What went wrong here was not that the college had a tick-box mentality, but that it did not."
North Yorkshire Police said it will review its current practices on issuing statements post-verdict.
However, Det Ch Supt Simon Mason added: "I am satisfied that Det Ch Insp Costello intended to do no more than to properly inform the public of the particulars of the case.
"The death of Lydia is a tragedy, the sensitivities and affect of which extend to many, including those charged with responsibility for impartially investigating and presenting the evidence that led to proceedings."