Campaigners warned against putting Masham sign back up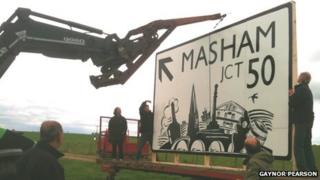 Defiant campaigners hoping to put their town back on the map have been warned a makeshift road sign they intend to put up to boost trade will be taken down.
Business owners in Masham say they have been hit by falling visitor numbers since signposts on the A1 were removed when the road was widened in 2009.
The makeshift sign has already been removed once because Harrogate Council said it breached Highways Agency rules.
Trader Gaynor Pearson said it being up temporarily was better than nothing.
The official brown tourist sign was removed following the A1 upgrade with the Highways Agency refusing to pay £32,000 to replace it.
Last year, firms in Masham raised £3,000 for a new sign, which was designed by a local artist and sited on private land close to junction 50 northbound of the A1.
But months after it went up, Harrogate council removed it because it did not meet Highways Agency requirements.
Campaigners had hoped a relaxation in council planning laws in the run up to the Tour De France's arrival in the county would allow them to temporarily put the sign back up as long as it promoted the event.
But the authority said the Highways Agency rules still apply despite Masham playing "a very important part of the Tour".
Ms Pearson said: "Our intention is to put the sign back up on Friday.
"The message from us is that we need people to be able to find us and we are prepared to do what we've got to do.
"We have the Easter holidays coming up and having signage so visitors can find us is crucial."
A Highways Agency spokeswoman said the decision was in the council's hands as the sign was "outside the highway boundary".
"We continue to work with the community working group in Masham to facilitate the installation of brown signs for Masham on the basis that the applicants meet the cost of the preparatory and installation works," she said.