Kirkbymoorside 'voting error' housing development rejected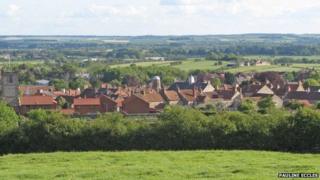 A housing scheme for a North Yorkshire town has been rejected by councillors.
An initial application for more than 200 homes at Kirkbymoorside was approved in 2013 after a councillor mistakenly voted in favour of the project.
That decision is the subject of a legal challenge but the developer opted to submit a new application.
Planning officers recommended approval, but Ryedale District Council's planning committee voted against the scheme.
'Pressed wrong button'
The initial scheme from Gladman Ltd proposed to build up to 210 houses and 50 apartments at the site at Westfields.
Ryedale District Councillor David Cussons opposed the plan but claimed he "pressed the wrong button" on an electronic voting system at a meeting last year.
The council said despite his "error" it could not overturn the decision without risking costly compensation payments or legal action.
Gladman submitted a revised application for up to 225 homes at the end of last year which attracted almost 40 objections.
Kirkbymoorside Town Council opposed the plans, claiming the scheme was too large and not suitable for the area.
The Conservative-run council's planning committee rejected the plan by a vote of 8 to 1.
A formal reason for refusal will be given on 11 February, the council said.
The company has not commented on the decision.