Army tribute to Catterick crash death soldiers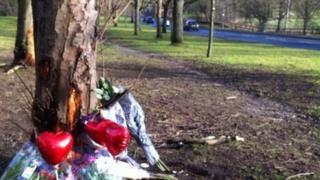 Tributes have been paid to two soldiers killed in a crash in North Yorkshire.
Trooper Mark McKeen, 23, from Londonderry in Northern Ireland, and Pte Codie Richardson, 20, of Stockton-on-Tees, were killed when the car they were in hit a tree.
It happened near Catterick Golf Club, Catterick Garrison, on Saturday.
Commanding officer Major Hugh Pearce-Gould said Trooper McKeen was a "first class soldier" and Pte Richardson "embraced" being in the Army.
Both soldiers served with the Royal Dragoon Guards.
Maj Pearce-Gould, Officer Commanding B (The Black Horse) Squadron, said Trooper McKeen had "served with great courage and dedication on two difficult and dangerous tours of Afghanistan".
He added: "Pte Codie Richardson had only been with the regiment for five months but had a very positive impression on both her squadron and the catering department.
"Outgoing, keen and personable, she was always willing to take on new challenges."
Deputy Mayor of Londonderry, Gary Middleton, said he went to school with Trooper McKeen.
"This is devastating news," said the unionist councillor.
"I went to school with him and served in the army cadets with him too.
"He was a bubbly character, outgoing and very keen. He was always very focused on what he was doing. He will be missed."