Missing Megan Roberts: Divers using specialist sonar equipment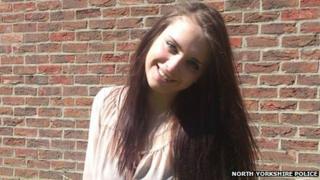 Police divers searching for a missing student are using specialist sonar equipment along a stretch of river in York.
North Yorkshire Police say it is likely Megan Roberts, 20, entered the River Ouse while "affected by alcohol".
Miss Roberts was last seen near Lendal Bridge on Thursday, 23 January.
Fire and Rescue crews are using a boat to conduct surface water searches, while officers scour land either side of the river.
During the weekend, divers will be searching from Lendal Bridge in York to the Naburn area downstream of the city.
The student, who is studying at York St John University, was reported missing by her mother on Monday after a friend raised concerns that she had not been seen since a night out with friends at the Popworld nightclub.
Police said she was last seen on CCTV with a group of people near Lendal Bridge, which crosses the River Ouse. She had been drinking "for several hours", Supt Cain said.
Anyone who has seen Miss Roberts, from Wetherby, West Yorkshire, is asked to contact North Yorkshire Police on 101.