Missing Nikita the Steller's sea eagle is found in Lancashire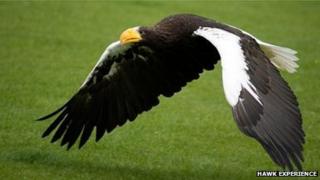 A giant bird of prey which went missing in the Yorkshire Dales six days ago has been found safe and well.
Steller's sea eagle Nikita, who has an 8ft (2.4m) wingspan, went missing on 25 January from her home in Settle.
Trainer Chris O'Donnell said she was eventually tracked down at Poulton-le-Fylde, Lancashire, after what he described as an "epic" journey.
He said the eagle was a bit dirty but was unharmed, and was now back in her normal enclosure.
"She is happy, healthy and has had a really good feed, and I am sure she will be much happier waking up in her own environment," Mr O'Donnell said.
Since the eagle's disappearance during a training exercise, there had been numerous sightings of her in both Yorkshire and Lancashire.
Mr O'Donnell said he had never tracked a bird as far.
"We have had so much help but it has been an amazing journey and we are completely exhausted from days of running around after her from morning to dusk."
North Yorkshire Police had warned people to keep their pets indoors until she had been found, but Mr O'Donnell, of Hawk Experience Ltd, said she posed no danger to people or animals.