York woman Pauline Wallace sentenced for snake neglect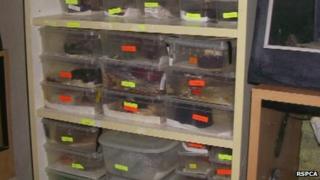 A woman who kept nearly 200 snakes in her home has been sentenced for animal cruelty offences.
Pauline Wallace, 64, of Osbaldwick Lane, York, had pleaded guilty in November to nine offences relating to a border collie, two boas and a python.
She was warned by magistrates she could face a prison sentence but was instead given a 12 month community order.
She was also banned from keeping reptiles for a year and ordered to pay £250 towards the RSPCA's costs.
In 2012, inspectors visited her home and found snakes being kept in plastic boxes that were considered too small.
Phil Browne, prosecuting for the RSPCA, told York Magistrates' Court the charity had incurred costs of £156,000.
He said the charity was paying between £7,000 and £16,000 a month to look after the 60 reptiles that were seized and did not have to be put down.
David Ward, defending, said Wallace had began with only one snake but had begun to take in more and more.
He said: "This is an elderly lady who, for a time, had too many snakes."