Specialist police to probe crashes across North Yorkshire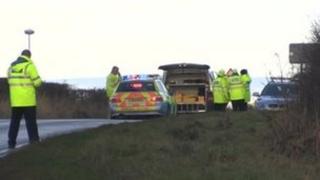 Fatal and serious road accidents are to be investigated by a team of specialist officers across North Yorkshire, the police force said.
Previously, local roads policing teams would deal with major incidents.
But now a team of officers with investigative, family liaison and skills interviewing vulnerable witness has been formed.
Officers have to patrol two national parks in the county, the Yorkshire Dales and the North York Moors.
The newly-formed team will work from Thirsk and the north of the county.
Deputy Chief Constable Tim Madgwick said: "North Yorkshire is the largest county in England with a very varied network of roads, presenting numerous challenges for the police and our road safety partners.
"Sadly, fatal and serious collisions are a major part of police work and require meticulous and intensive resourcing to enable us to obtain the appropriate outcome for victims and their families."
North Yorkshire Police said the new team would focus on investigating accidents which are the most serious the force deals with.
Mr Madgwick added: "These investigations can be very lengthy and often involve dealing with very distraught and traumatised victims and witnesses.
"Their work involves gathering evidence to determine the cause of collisions and to prosecute motorists who are at fault, interviewing suspects and witnesses, carrying out road checks, liaising with HM Coroner, the Crown Prosecution Service and the court service."