Norton to Wetwang road safety campaign after seven deaths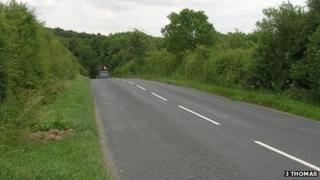 Campaigners have called for urgent safety measures on a road in North Yorkshire where seven people have died in nine years.
Two men and a woman died in November when their car collided with a van on the B1248 from Norton in North Yorkshire to Wetwang in East Yorkshire.
Several more have been seriously injured on the road.
Wharram-le-Street Parish Council discussed the road's safety at a meeting on Tuesday.
Roger Kay, chairman of the parish council, said a six-mile (9km) stretch of the road was particularly dangerous.
People at the meeting said there were regular near-misses on the road, which consists of steep inclines, twists and turns, blind spots and crossroads.
'Accidents will continue'
The three who died in November were Polish nationals travelling from Hull to work at Malton bacon factory.
Mr Kay said: "The problems must be dealt with as soon as possible or more accidents will continue happening."
Honor Byford, North Yorkshire County Council's road safety team leader, said the council would work closely with the East Riding of Yorkshire Council to take a joint approach to the problem.
"For engineering and infrastructure, the signs and the lines, we need to wait until the ongoing police investigation [into November's crash] is finished," she said.
"If any recommendations come out of the police investigation, we will obviously carry them out."