Tour de France road closures are 'small price to pay'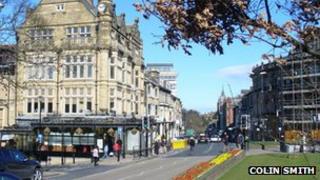 Closing around 60 roads is a "small price to pay" for hosting the Grand Depart of the 2014 Tour de France, it has been claimed.
North Yorkshire County Council said it will bring "massive returns" but admits there will be significant disruption.
The first stage of the race is from Leeds to Harrogate on 5 July with York to Sheffield the following day.
North Yorkshire is the first of the host authorities to confirm its planned road closures for the race.
The area has more than half of the first two stages on its roads.
One of the worst affected areas is Harrogate where "most" roads in the town centre will close on Saturday 5 July.
The Conservative-run county council said the event was a "huge logistical challenge" and disruption was also expected in the week leading up to the race.
John Weighell, leader of the council, said: "Across the Yorkshire region as a whole, it is estimated that the economic value of hosting the Grand Départ will be £100 million.
"In return for this, the people of North Yorkshire will experience some transport disruption, and I am confident that they, like me, will consider it a small price to pay for such a massive return."
The race will continue from Cambridge to London on 7 July, prior to the French stages from 8 until 27 July.