Sherburn-in-Elmet tyre blaze left to 'burn itself out'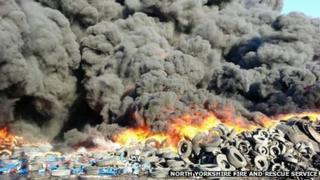 A tyre fire which began on Thursday will be allowed to burn itself out, the fire service has confirmed.
The blaze at the Newgen Recycling Centre in Sherburn-in-Elmet, North Yorkshire, involves more than 15,000 tyres.
North Yorkshire Police has warned residents in the area to continue keeping doors and windows closed.
It said thick smoke generated by the fire could fall closer to ground level due to a change in weather conditions.
The plume initially rose to around 6,000 ft and was visible from space.
Officials from the Environment Agency, the Met Office and other agencies were continuing to monitor the plume, the force added.
Supt Andy McMillan said: "With this type of situation, which can be hard to predict due to weather conditions, our advice is to stay alert, take precautions and stay indoors to avoid coming into contact with the smoke.
"If you or someone you know begins to feel unwell due to the possible effects of smoke, please seek medical attention immediately if you have health concerns."
North Yorkshire Fire and Rescue Service said one crew remained at the site to monitor the situation.
It said investigations into the cause of the blaze would not begin until the fire had burnt out.