Yorkshire Air Museum director awarded top French honour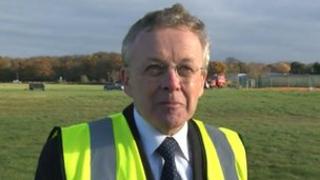 A museum director has been given one of France's highest honours in recognition of his work preserving the memory of French airmen from World War Two.
Ian Reed, director of the Yorkshire Air Museum, at Elvington, near York, was awarded the Ordre National du Mérite.
Bernard Emié, French Ambassador to the United Kingdom, said the accolade was for Mr Reed's career and "commitment to the duty of remembrance".
Mr Reed described receiving the honour, at officer rank, as "very humbling".
Two French squadrons, No 346 (Guyenne) and No 347 (Tunisie) were based at RAF Elvington, during the war - the only base used by the French heavy bomber squadrons.
They arrived in Yorkshire in early 1944 and played a major part in the intense bomber offensive against Germany.
Of the 2,500 French air crew stationed at the base almost half were killed.
'Wartime contribution'
In 2011, Mr Reed organised the French in York festival which culminated in the first French memorial in an English cathedral being inaugurated at York Minster followed by a parade and fly-past of more than 16 French and British war planes.
He has also arranged for Battle of Britain medals to be presented to the families of two famous Free French pilots, Henri Lafont and Rene Mouchotte.
Mr Reed, who has been the museums director since 1999, said: "I think the story is only just starting to come out over in France.
"So, in a way, the French people are only just starting to learn about their wartime contribution to the Royal Air Force."
The National Order of Merit is one of the most prestigious National Order in France.
It is second only to the Legion d'honneur - which is normally reserved for French nationals.
It has only been given to about 2,500 people, including former French presidents François Mitterrand and Charles de Gaulle and King Juan Carlos of Spain.