The Yorkshire Museum wants to buy £50,000 Viking hoard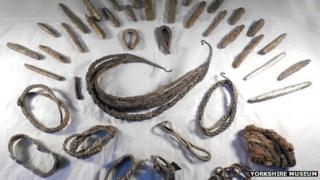 A museum hoping to buy a "nationally significant" Viking hoard valued at more than £50,000 has until the end of March to raise the money.
The hoard was found in Bedale, North Yorkshire, in 2012 and includes a gold sword pommel and silver neck ring.
The Yorkshire Museum wants to buy the treasure hoard, valued at £51,636, otherwise it could go to auction.
Lee Clark, from the museum, said: "This is the one chance to keep a unique style of jewellery here in Yorkshire."
The York-based museum said the hoard contained a gold sword pommel, an unusual silver neck ring and neck collar, a silver armlet, 29 silver ingots, two other silver neck rings, gold rivets and half a silver brooch.
'Never returned'
It has been declared as treasure trove, valued by an panel of experts and is currently on display at the museum.
Natalie McCaul, curator of archaeology, said: "This is a spectacular find featuring gold and silver items which would have been a wealthy Viking's life savings.
"It was buried for safekeeping but for some reason never returned to."
The hoard dates from the late ninth or early 10th Century, the museum said.
Part of the hoard was found by metal detectorists in May 2012.
They informed the Portable Antiquities Scheme of the find and archaeologists then unearthed the rest of the find.
The large pommel is made from iron and inlaid with plaques of gold foil and is believed to be from an Anglo-Saxon sword.
The neck ring is made up of four ropes of twisted silver strands joined together at each end. The strands end in hooks which would have been linked together when the collar was worn.
The exact location of the find has not been revealed at the request of the landowner.