Ripon Caterpillar sculpture beheaded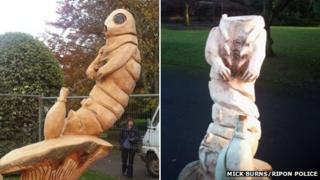 A wooden sculpture of Caterpillar, a character from Lewis Carroll's Alice in Wonderland book, has been beheaded by vandals.
The chainsaw carving at Spa Gardens in Ripon, North Yorkshire, was created in November by artist Mick Burns, along with White Rabbit and Alice.
North Yorkshire Police said the rabbit had also been damaged.
Harrogate Borough Council commissioned the artwork in memory of the author, who was a "regular visitor" to Ripon.
Mr Burns, also known as Chainsaw Mick, said it was a "pity" but he thought the sculptures could be repaired.
"It's not the first time it's happened with my sculptures, it comes with the territory," he said.
The carvings took two days to complete and were made from the trunks of cypress trees.
The council said Lewis Carroll visited the city regularly when his father was canon in residence at Ripon Cathedral.