Yorkshire Marathon increased numbers of runners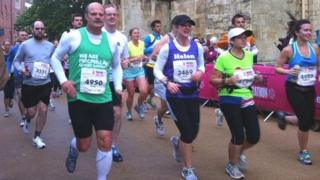 Organisers of the Yorkshire Marathon have said 1,000 more runners will be able to participate in the 2014 event.
More than 6,000 people took part in the first marathon which was held in York in October.
The event was set up by Jane Tomlinson's Run For All, which the Leeds fundraiser's family launched after she died of cancer in 2007.
The marathon's 26.2-mile (42km) route travels through York and several villages in North and East Yorkshire.
Organisers said pre-sale tickets for the marathon, held on 12 October, had sold out five hours after the 09:00 GMT entry opening time.
Places are still available through the general sale, which opens at 09:00 on Monday.
Last year, all of the initial 5,500 places for the inaugural marathon were taken within 72 hours of them being offered and an additional 600 places were created due to demand.
Organisers believe the event raised around £2m for charity.
Mike Tomlinson said: "Since then the amount of money coming in for the charities involved has taken our breath away. We hoped for it to be successful but nowhere near as successful as it was."
Mrs Tomlinson raised more than £1.5m for charity through a series of sporting challenges after being told her cancer was terminal in 2000.
Jane Tomlinson's Run For All already stages Leeds, York, Hull and Pennine-Lancashire 10k races and the Leeds half marathon.