Tesco ice cream contamination investigated by police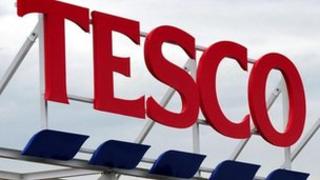 An investigation into the possible deliberate contamination of Tesco ice cream with painkillers has been launched by North Yorkshire Police.
In November, two filled cones produced for the supermarket by R&R Ice Cream based in Northallerton were each found to contain a single pain relief tablet.
Tesco recalled its own-brand chocolate and nut cones as a precaution.
The force said it was working alongside the supermarket chain, the manufacturer and the Food Standards Agency.
In a statement, North Yorkshire Police said the two incidents had been "assessed as a low risk to public health".
R&R Ice Cream said it had introduced additional security measures at its North Yorkshire factory following the incident, including the installation of CCTV on the production lines.
The company said cone production had restarted just before Christmas.
A Tesco spokesman said: "As a precautionary measure, we issued a product recall on Tesco Chocolate and Nut Ice Cream Cones in November after two individual cones were found to contain tablets.
"We are currently investigating this incident with our supplier and we are helping the police with their inquiries."