North Yorkshire Moors Railway's founding couple remembered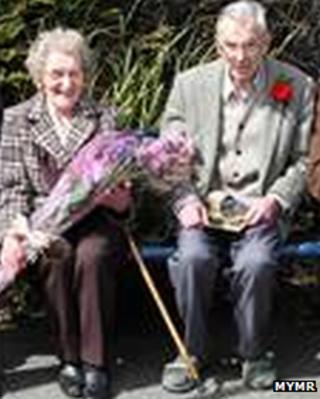 Wreaths placed on locomotives will commemorate a couple who were influential in the founding of the North Yorkshire Moors Railway (NYMR).
The NYMR said it was mourning the "Father of the Railway" Tom Salmon and his wife, Erika.
Mrs Salmon passed away on Christmas Eve and her husband died on Christmas morning, the heritage railway said.
Philip Benham, general manager, said: "The NYMR could not be more grateful for all they both have done."
Popular tourist attraction
Earlier in the year during the NYMR's 40th anniversary gala the couple attended a reunion of the founding members of the railway at Ruswarp Station, North Yorkshire.
It was Mr Salmon who called the first meeting of the preservation society at his house in 1967.
The railway line is a popular tourist attraction staffed largely by volunteers.
It runs steam trains through the North York Moors National Park on an 18-mile (29km) route from Grosmont to Pickering, with some services running a further six miles (9km) into Whitby.
Memorial wreaths are to be placed on the front of the engines until Sunday, the railway said.
The joint funeral will take place at St Hilda's Church in Sneaton, near Whitby, on 7 January at 11:30 GMT.