Harrogate Town AFC in appeal for WWI squad descendants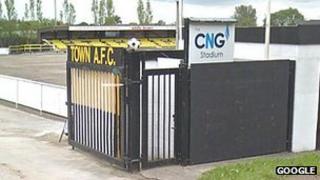 A football club in North Yorkshire has appealed for descendants of the club's original players to get in touch so it can mark the team's centenary in 2014.
Harrogate Town AFC's first match was due to kick off on 5 September 1914, but the match never took place due to the outbreak of World War One.
Garry Plant, from the club, said little was known about the original squad.
"We believe there'll be a raft of fantastic stories to come out of this search for their ancestors," he said.
"They all went off to war. Some will have come back, some didn't. We just find it an intriguing story."
A special centenary event at Harrogate Town's CNG Stadium is planned for 2014, said Mr Plant.
It is hoped descendants of the original team will be able to attend, he added.