High Birstwith man offers £10k reward over burglary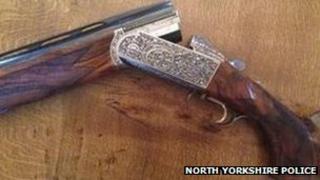 A man whose family was threatened with crowbars by four masked men who broke into their home has offered a £10,000 reward for information.
The gang took six shotguns, a rifle, jewellery and a Porsche 911 car from the house in High Birstwith, North Yorkshire, on 6 December.
The Porsche was later found abandoned in Tang.
North Yorkshire Police said the victim's reward was for information leading to an arrest and charge.
Det Insp Andrea Kell said: "There is a substantial amount of money on offer for anyone with information about this incident.
"It has been a very difficult time for the family and they are struggling to come to terms with being confronted in such an alarming manner in their own home."
The charity Crimestoppers has also offered a separate reward of up to £2,000 for information leading to a conviction.