Mentors help sick soldiers return to civilian life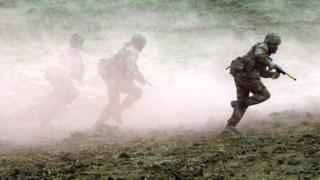 For members of the armed forces who leave the military with illnesses or injuries, adjusting to life outside the services can be difficult. The BBC News website speaks to a soldier who has been helped by a mentoring scheme and the volunteer who has worked with him.
For former soldier David Henderson the start of 2014 and new beginnings could not be more poignant.
It marks the end of a relationship that has helped transform his life from a "dark, scary" place to one he is ready to embrace.
Over the past year the 27-year-old has been having regular meetings with "mentor" Fiona Wakefield, the woman tasked with helping the former corporal, who was medically discharged from the Army in 2012, find his feet back in "civvie street".
The pair have been part of a scheme run by the forces' charity SSAFA in which volunteers help support sick or injured soldiers as they adjust to life outside the armed forces.
They have met weekly for hour-long chats over coffee at a motorway service station in Newcastle but are now gearing up for their final meeting.
'Messed up head'
A former physical training instructor, Mr Henderson first met Ms Wakefield in August 2011 having being diagnosed with post-traumatic stress disorder following a tour in Afghanistan.
Prior to that his mental health was so low he attempted to self harm while home on leave.
He said: "I'd been out drinking and felt really depressed so I took a knife to some woods but felt like I'd not had enough alcohol so I went home to get more but I passed out on my way back.
"Before that I didn't realise how much things had affected me and how messed up my head was."
While getting psychiatric help at the Army recovery unit at Catterick Garrison in North Yorkshire, Mr Henderson was introduced to Ms Wakefield who had signed up to the charity's mentoring scheme.
He said: "After getting discharged I was lost.
"I had been in the Army since I was 18, it was all I'd ever known and to all of sudden not be there anymore was scary. I didn't know what to do."
In her role as "mentor" Ms Wakefield, whose parents were both in the RAF, was there to support him rebuild a life outside the military.
"Coming out of the Army was unplanned for David. It's horrendous for people like him to try and get back to a normal life," she said.
"As a physical training instructor he was used to taking command of groups of men but he really struggled to see how his skills could be transferred. He was massively under valuing himself and what he was capable of doing."
The SSAFA scheme started out as an 18-month pilot project but has now been rolled out nationally with 60 volunteers signed up.
The charity wants to increase that to 300 with particular focus on recruiting more volunteers in North Yorkshire because of its connections with the military.
Jane Bannan, from Green Hammerton, near York, is a new volunteer and has recently met the soldier she will be mentoring.
"I hope with my life experience and life skills I can be a bouncing ball for him, help him see how he can develop," she said.
"It's a little like people who take a guide dog puppy.
"You know you've only got them for a year and you hope to give them a good grounding and make them aware of their own possibilities."
Ms Wakefield said Mr Henderson had changed a lot from their first meeting.
"I don't think he sees it himself but he's more confident and resilient.
"He ended up creating a beautiful CV and he's now working for the British Military Fitness, which is totally within his skills set."
Speaking of their last meeting, she said: "I'll be sad when we walk away from each other but I'll be proud. I'm just so pleased with how far he's come."
And Mr Henderson added: "I will miss seeing Fiona but I know that if there's any time I'm ready to break free and be by myself, that time is now."