Christmas presents stolen from van in York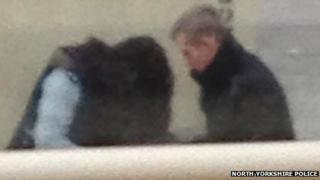 Police in York have released images of a man and woman suspected of stealing Christmas presents believed to have fallen from a delivery vehicle.
The sack fell from the insecure door of a van as it was driven on Leeman Road, Garfield Terrace and Salisbury Terrace on 13 December, police said.
The male suspect had shaved hair at the back and sides. The woman had long hair and wore large earrings.
Anyone with information has been asked to contact the police.
Both suspects were seen by a member of the public acting suspiciously behind a storage container in the Salisbury Terrace area of York.
Further investigations revealed the suspects had rummaged through the mail sack, opened the parcels and stolen some of the contents, police said.
Most of the stolen items were Christmas presents and included Paul Smith brown leather shoes and a Hugo Boss perfume gift set.