Wensleydale cheese granted protected status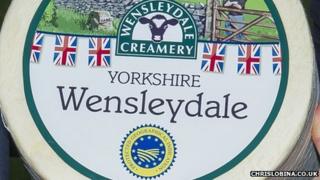 Only cheese produced in the Yorkshire Dales will in future be allowed to use the name Yorkshire Wensleydale.
The European Commission has awarded the cheese Protected Geographical Indication (PGI) status.
The decision means the name can only be applied to cheese which is produced within an area around Hawes in North Yorkshire.
The Wensleydale Creamery, which has produced the cheese for over a century, said it was "thrilled" by the decision.
The white, crumbly cheese was first made by Cistercian monks in the 12th Century but was not produced on a commercial scale until the 1890s when the first creamery was built in Hawes.
In 1993 EU legislation came into force which provides for a system for the protection of food names on a geographical or traditional recipe basis.
Other British products already protected include the Cornish Pasty and Cumberland Sausages.