Scarborough's Futurist Theatre faces final curtain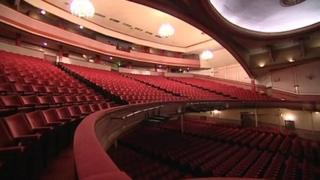 A seafront theatre is to close while attempts are made to find a new operator for the site, a North Yorkshire council has confirmed.
Scarborough's Futurist is to be boarded up after the borough council rejected plans to more than double its subsidy to the site's operator to £180,000.
Conservative council leader Tom Fox said the theatre's viability had not been established.
The Save Our Futurist group said there was "absolute anger" at the decision.
Built in 1921, the Futurist has staged concerts, shows and films but is located within an area earmarked for redevelopment.
'Beyond refurbishment'
It was bought by Scarborough Council in 1985 and has been leased to its current operators, Brenda and Barrie Stead, since 2002 with that lease set to expire at the end of 2013.
In June, a report found the theatre was "beyond the point" of refurbishment.
A council report recommended either increasing the subsidy paid to the Steads or boarding the theatre up for three months, at a cost of £5,000, "to provide time to flush out any potential operators".
It added that if a suitable offer was not forthcoming council officers would be instructed to "formally close the Futurist Theatre", at a further of cost of £20,000.
Mr Fox said he expected Scarborough Borough Council to "be thorough in managing the integrity and security of the building and remaining facilities" while it was mothballed.
The current operator's lease will, however, be extended until 5 January to permit the continued screening of The Hobbit, Mr Fox added.
Patricia David, from the Save Our Futurist Group, said it was "totally unrealistic" to expect another potential operator to come forward.
"Three months is not enough time to get together a business plan, find funding and start to book acts for the coming year."