Cost of Scarborough and Whitby's tidal surge could be £1m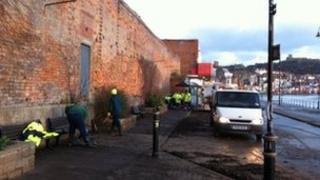 The cost of damage around Scarborough and Whitby after the severe tidal surge has been put at about £1m.
Scarborough Borough councillors agreed repair work should get under way as a council report said unsafe structures posed a risk of death or injury to the public.
Buildings and 30% of the town's sea defences were damaged during the evening and overnight storm of 5/6 December, an urgent cabinet report has said.
The water reached 7ft 10 ins (2.4m) above high tide at the storm's height.
The report to the council's cabinet stated the borough of Scarborough was particularly badly affected with flooding and power outages in Staithes, Sandsend, Scarborough and Whitby.
William Wilson, of W Wilson, a fruit and vegetable wholesaler alongside Whitby harbour, said he was still waiting for assessors to calculate the total amount of the damage but the surge was the worst he had seen in 45 years.
'Like mini-tsunami'
The firm has five vehicles off the road following the flood that reached a height of 2ft (0.6m) in the warehouses at the harbour.
Mr Wilson said: "It crashed over the harbour wall and came in like a mini-tsunami, it overturned fridges and destroyed stock. I was up to my knees in water.
"We'll get through it but it is all upset and upheaval."
The flooding also led to power cuts.
Whitby Hospital and many Whitby properties were without power for several hours, although the hospital was able to rely on emergency generators. Sandside also had power cuts.
The Scarborough Sea Life Centre, which was forced to close for a day, is currently playing host to five common seals and five otters flooded out of a similar centre in Hunstanton.
The council report stated that despite cuts to its budget "the option to do nothing in the case of this damage is not feasible".
The council said it intended to ask for financial help from the government under rules helping local authorities recoup the majority of costs incurred in emergency situations.
Councillors were warned even if a claim was met in full the council would need to find about £250,000 of the estimated £1m damage.