Harrogate's 'expensive' hotels damage business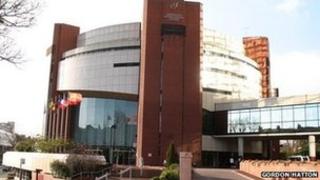 'Expensive' hotels have a detrimental effect on conference business in Harrogate a report has claimed.
The report, commissioned by the Borough Council, said the conference trade supported 4,000 jobs and was worth £50m to the area's economy.
But it said many conference organisers complained about the lack of affordable accommodation.
Hotels in the town said room rates were "reasonable" and prices were dictated by demand.
Harrogate's International Centre (HIC) attracts 150 events and 290,000 visitors a year.
It told the council's overview and scrutiny committee the Chartered Institute of Housing had moved its annual conference to Manchester due to the high cost of accommodation in Harrogate.
'Ripped off'
Councillor John Fox, the committee chair, said: "One of the main gripes of event organisers is hotel prices."
He said the council would work with hoteliers on prices but also had to try and attract some of the major hotel chains to the area to increase supply.
The Yorkshire Agricultural Society, which hosts major events at the Great Yorkshire Showground, said fluctuating room rates were a regular problem.
Heather Parry, from the society, said: "It upsets organisers and there is a feeling of being ripped off."
Peter Banks, director of tourism organisation Visit Harrogate and manager of Rudding Park Hotel, said the issue was down to supply and demand.
"There are only a certain number of hotel bedrooms. When supply is fixed and demand increases then the price will increase.
"I only have 90 bedrooms to sell each night and my job is to make as much money from those 90 bedrooms as possible."
Mr Banks said he did not believe room rates threatened conference trade and said other major conference venues offered financial incentives to attract events.