Fire destroys listed Scarborough beach huts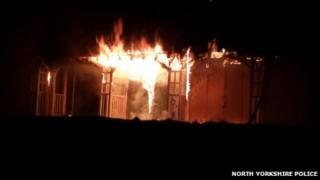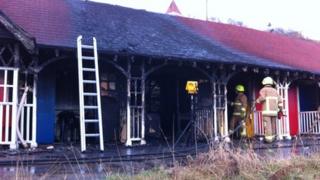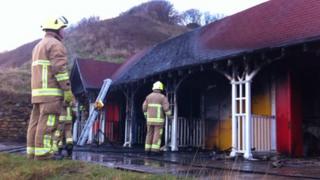 Eight Grade II-listed beach chalets have been badly damaged by fire in Scarborough, North Yorkshire.
The fire started at about 06:00 GMT in one row of the chalets close to the Spa complex in the South Bay.
The huts were built shortly before World War One and were given listed status in 2008.
North Yorkshire Fire and Rescue Service said the cause of the blaze had not been identified, but police are investigating.
Michael Carey, from the fire service, said: "It isn't looking too good for where the fire initially started, but it is possible the central ones might be salvageable - but that will be up to the council."
He said a group of people from a local gym who were exercising on the beach and saw the blaze.
The damaged row of chalets is operated by Scarborough Borough Council, which rents them out to residents and tourists.
Andrew Williams, the council's leisure manager said: "At this early stage, we don't yet know the cause of the fire but we are assisting North Yorkshire Police with their investigations.
"Our tourism staff will be making contact with the people that rent the chalets on an annual basis to inform them of what has happened and once investigations are complete, arrangements will be made for them to collect any remaining belongings."