'Wave dodging' warning at Scarborough seafront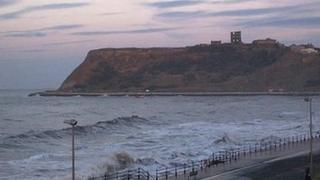 People who have been "wave dodging" close to railings and sea walls during the tidal surge and high tides in North Yorkshire have been criticised.
About a third of sea defences in part of Scarborough's North Bay were damaged by the tidal surge that hit the region.
Town officials said they "remained extremely concerned that people are still behaving recklessly".
The borough council said residents and visitors should "steer clear" of damaged walls and railings.
In 2005 a mother and her two children died when a freak wave during rough seas dragged the two children off the slipway at the resort's North Bay.
Kim Barrett, 33, and her son Luke Greenwood, 11, from West Park in Leeds, were found by a helicopter crew, but were later pronounced dead in hospital.
The body of Ms Barrett's daughter Aimee Greenwood, 13, has never been found.
The inquest in Scarborough heard the children were dragged into the water and Ms Barrett jumped in to try to pull them back.