Richard Oldham: York voyeur teacher's jail term increased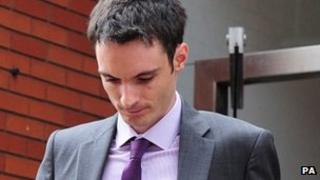 A teacher who filmed young boys on a phone as they changed for swimming lessons has had his sentence more than doubled by the Court of Appeal.
Richard Oldham's sentence was increased from six to 13 months.
Oldham taught at several primary schools in the York area between 2004 and 2012.
The initial sentence, handed down at Leeds Crown Court, was referred to the Attorney General's office as possibly being unduly lenient.
'Abused trust'
Items of computer equipment seized from Oldham's house revealed more than 2,000 indecent images of children, including 42 images depicting boys between the ages of eight and 12 getting undressed, the Attorney General's office said.
Oldham was charged with 23 offences including voyeurism, making and possessing indecent photographs of children and sexual assault.
The Solicitor General, Oliver Heald QC MP, asked the court to look again at the case.
Mr Heald said: "Richard Oldham abused his position of trust and acted in a way that was wholly inappropriate for a teacher, committing sexual offences against young boys who were in his charge and entitled to be safe.
"I asked the court to look again at his overall sentence and consider whether sentences for some of the offences should have been ordered to run consecutively.
"Sexual crimes, especially those which breach the trust between a pupil and teacher, should be punished appropriately."
Det Sgt Adam Normanton, of North Yorkshire Police, said: "I am pleased that the Court of Appeal has taken the decision to increase Richard Oldham's sentence to more accurately reflect the gravity of his offences.
"His victims showed great courage to come forward and report what happened to them and I hope that the extension of Oldham's sentence will give them a sense that justice has been done."