Extra spaces for bicycles created in York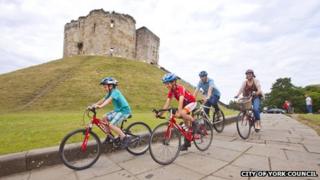 York has increased the number of parking spaces for bicycles to improve the city as a place for cyclists.
An extra 150 spaces have been created by adding new cycle racks and extending existing ones, bringing the total to more than 1,000.
City of York Council said it had spent £25,000 on the new facilities.
The council has already agreed a city-wide cycle hire scheme to start in 2014, the year York hosts the start of a stage in the Tour de France.
More than 11,000 of York's 200,000 residents currently cycle to work, according to the 2011 Census, and the council hopes to increase that figure.
The new spaces are located on Goodramgate, Piccadilly, King Street, North Street, Nunnery Lane car park, Micklegate and outside the post office in Lendal.
Councillor Dave Merrett said: "We need to keep up with demand to make it as a convenient as possible for people to choose cycling and also so that cycles aren't parked in appropriate places such as on railings."