Motorist 'risked life' to save man after Wetwang crash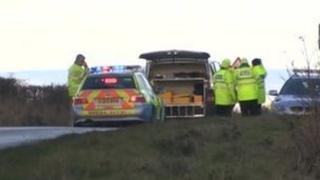 A motorist who rescued a man after a crash that left three people dead "undoubtedly" saved his life, police have said.
The collision happened on Wednesday on the B1248 between Wetwang and Malton in North Yorkshire.
A woman, 40, her 18-year-old son and a man, 47, all from Hull, died in the crash. Two men were seriously injured.
North Yorkshire Police said a passing motorist risked his own life to help one of the injured men.
'Courageous actions'
The collision involving a Ford Focus car and a Citroen van happened at about 05:40 GMT near Wharram le Street.
Of the five people in the Ford, three died at the scene and two men, 30 and 37, were seriously injured and remain in hospital.
North Yorkshire Police said a passing motorist, who has not been identified, stopped and rescued the 30-year-old man from the car.
Sgt Andy Fraser said: "I would like to thank the man who stopped at the scene and rescued one of the passengers from the Ford Focus.
"The man put his own life in danger and his courageous actions undoubtedly saved the man's life."
All five of the people in the Ford Focus were from Hull and were Polish nationals.
They were travelling to work at Karro Food Group, formerly Malton bacon factory, in Malton.
The driver of the van, a 48-year-old man from Pickering, has been discharged from hospital.