Mother and son factory workers killed in Wetwang crash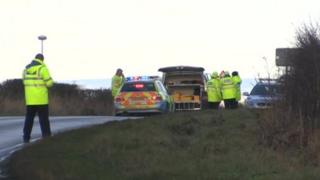 A mother and her 18-year-old son were among three people killed in a crash in North Yorkshire on Wednesday.
The woman, 40, her son and a 47-year-old man were killed when their car collided with a van on the B1248 between Wetwang and Malton.
Two other men in the car were also injured. All five were Polish nationals from Hull and were travelling to work at a factory in Malton.
The male van driver, 48, has been released from hospital, police said.
'Devastating news'
The five people were travelling in a Ford Focus to work at Karro Food Group, formerly known as Malton bacon factory, when the collision happened just after 06:00 GMT.
North Yorkshire Police said the two injured men are both being treated at Hull Royal Infirmary.
One man, 30, remains in a critical condition and the other injured man, 37, is in a serious condition with multiple fractures.
Karro Food Group's HR director, Charles Pascall, said: "At this difficult time, we're doing everything we can to support the families of our colleagues who were fatally and seriously injured in yesterday's road accident as they were travelling to our Malton site for the start of their shift.
"Everyone here is devastated by the news and we continue to support our colleagues during this deeply distressing time."
North Yorkshire Police said the driver of the Citroen van was from Pickering area.
He was treated at York Hospital before being discharged.
The B1248 road remained closed for 10 hours following the collision.