One&Other awarded local TV licence for York by Ofcom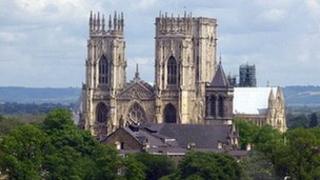 A licence to run a new local TV station in York has been granted to the One&Other TV consortium by Ofcom.
The consortium was the only bidder for the licence to broadcast to about 100,000 households in the York area.
The York Channel, as it is expected to be known, is hoping to begin broadcasting on Channel 8 on Freeview towards the end of 2014.
One&Other said between 12 and 15 new jobs would initially be created by the channel.
The partners in the consortium include the University of York, the University of York St John, the City of York Council and Science City York.
The earliest on air date for the channel is 31 October 2014 and at the latest by 30 January 2015, One&Other said.
Ofcom has awarded 23 local TV licences in England and Wales.
The first local TV channel started broadcasting in Grimsby on 26 November.