New look for York's 'shabby' King's Square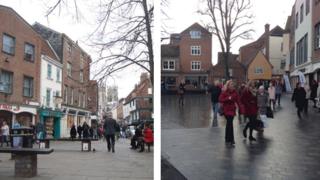 The first stage of work to improve a "shabby" and "cluttered" public square in York in time for a major Christmas market has been completed.
Changes to King's Square mean there is now better pedestrian access, extra seating and more space for performers.
City of York Council said the popularity of the square had led to overcrowding and it was also in need of "serious maintenance".
The work was planned to finish ahead of the St Nicholas Fayre on Thursday.
Further work to the road alongside the square will take place next spring, with the whole scheme costing £490,000.
The work is part of a larger £3.3m initiative called Reinvigorate York.
Sir Ron Cooke, chairman of Reinvigorate York, said because of the square's popularity it had become "shabby" and "cluttered".
He said: "The paving was uneven, many slabs were broken, there were unsightly patches of tarmac and the seating was poor, poorly placed and inadequate."
Councillor David Merrett said: "The King's Square transformation will maximise the benefits for residents, visitors and businesses through creating a much more attractive and thriving city centre."
St Nicholas Fayre is one of the most popular Christmas markets in the UK, with thousands of visitors coming to York during the four-day event.