Malton bacon factory workers killed in Wetwang crash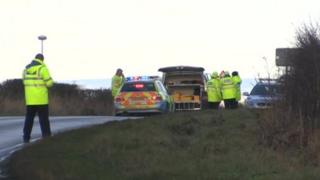 Three people have been killed in a crash involving a van and a car as they travelled to work at a bacon factory.
Three others were seriously injured in the crash on the B1248 between Wetwang and Norton, on the border of East and North Yorkshire, just after 06:00 GMT.
Two men and a woman travelling in a Ford Focus died at the scene. Two other men in the car were seriously injured.
North Yorkshire Police said the driver of the van, a 48-year-old man, was also seriously hurt.
The two men and woman who died were travelling to work at Karro Food Group, formerly known as Malton bacon factory.
HR director Charles Pascall said: "We are extremely saddened to hear about the road accident this morning, in which three of our colleagues were fatally injured.
"Our thoughts go out to their families at this awful time and we are offering support to those families and to the colleagues of those who died.
"We are assisting the police in any way possible with their inquiries into the cause of the incident."
'Small fire'
The B1248 remained closed until 16:30, North Yorkshire Police said.
Reece Williams, from the force, said: "The scene was quite a difficult one to be present at.
"There had been a small fire at the scene involving the vehicles and officers have been dealing with it as sensitively as they can given the circumstances."
Officers are appealing for witnesses, including the driver of a white van which was seen travelling along the B1248 just before the head-on crash took place.
A police spokesman said: "The driver could be a vital witness to the incident and we urge them to come forward as a matter of urgency."
Residents living in villages in the area said they have been concerned for several years about the number of serious accidents on the B1248.
Roger Kay, chairman of Wharram-le-Street parish council, said: "I have to say it is something that is shocking but it does not surprise me. We have had some very bad cases of driving through the village over the last few years and there have been a couple of fatalities.
"We, as a village, are very concerned about the speed and the level of overtaking on the B1248."