Malton flood defences proved to be 'robust'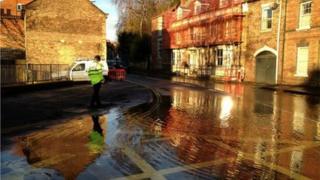 A review into serious flooding in parts of North Yorkshire in November 2012 has said flood defences proved "robust".
Flooding in Malton, Norton and Old Malton was caused by surface and ground water combined with high river levels.
That combination overwhelmed drainage and sewerage systems in the area, the review says.
North Yorkshire County council said some properties had flooded but it was not on the level seen in 2000, before river defences were built in 2004.
The Malton, Norton and Old Malton Flood Risk Review analysed the response by the council and other agencies to the flooding.
'Enhanced protection'
The council said although the £9m river defences held up, there was some seepage and repairs have been carried out by the Environment Agency.
A location-specific pumping plan using temporary, moveable pumps has also been developed.
The review recommends work to reduce the impact of flooding and pumping operations on roads in the area.
It suggests installing permanent rail and road crossings for pipe work needed during pumping operations.
The review says there needs to be a better understanding of how groundwater levels and springs interact and how drainage systems behind river defences work.
Conservative county councillor Gareth Dadd, executive member for environmental services, said: "We are confident that the measures that have been identified so far, and in many cases delivered already, offer greatly enhanced protection."
The North Yorkshire Flood Risk Partnership, which comprises the Environment Agency, Yorkshire Water, the internal drainage boards and the county and district councils, will consider the review in December.